Planning your trip to Wallaroo and looking for attractions and things to do? Read on to learn all the things to see and places to visit near Wallaroo in South Australia.

Why visit Wallaroo?
Wallaroo is located 160kms or 2 hour's drive north-west of Adelaide on the Yorke Peninsula in South Australia. Part of the Copper Coast, famous for some of the best beaches in South Australia and rich in history. 
Wallaroo Attractions 
There's plenty to see and do within walking distance, or a short drive from our holiday park. 
Adventure playground:  built for kids of all ages, this is a large shaded play area with a flying fox, swings, slides and a variety of climbing frames. Just 15 mins walk from the park. Visit kidsinadelaide.com.au/wallaroo-adventure-playground for more info.

Wallaroo Jetty: a historical landmark famously known as one of the best jetties in South Australia, stretching almost 900m out across deep water. The Wallaroo Jetty is a popular fishing spot, with snapper, flathead and tommy ruff aplenty.  Divers can explore loads of marine life under the jetty and there are also large grain ships visiting in summer months.  5 mins walk from the park. 
Fishing: Wallaroo is a renowned spot for fishing on the Copper Coast. Snapper, squid, flathead, tommy ruff, garfish, snook, salmon and mullet are popular catches in this region.  Wallaroo Marina offers multi-lane boat launching.
Check out our article about fishing in Wallaroo
Heritage and Nautical Museum: Take a trip back in time with extensive displays from the copper smelting era 1861 – 1923. More info here:  www.nationaltrust.org.au/places/wallaroo-heritage-and-nautical-museum
Wallaroo Heritage Trail – Enjoy this 9km driving loop from the heritage and nautical museum marked by distinct trail signage. Visit significant historical sites, heritage buildings and learn about the three copper coast towns of Wallaroo, Kadina and Moonta. visitcoppercoast.com.au/sites/coppercoast/media/pdf/wallaroo-historical-town-drive-2020.pdf
Office Beach: directly in front of our park, Office Beach offers shaded sandy areas with cafes and restaurants a stroll away.
Sailing Beach: just north of office beach, on the north side of the ferry wharf. 
North Beach: located just north of our park, a beautiful wide stretch of white sandy beach. 
Wallaroo Community Sports Club: offering an 18-hole golf course, indoor lawn bowls and croquet. 5 mins drive from the park. 
Coopers Alehouse: Waterside pub with happy hour and a functions venue. 10 mins walk from the park. 
Spencer Gulf Searoad: This large vessel offers passenger and vehicle ferry transfers across the Spencer Gulf, between Wallaroo (Yorke Peninsula) and Lucky Bay (Eyre Peninsula).  If you're planning a trip to Eyre Peninsula, this will save you hours of driving time.
'Wateroo' swimming enclosure & pontoons at Wallaroo
Free outdoor swimming enclosure built by the District Council of the Copper Coast accessible 7 days a week, 24 hours a day all year round, although the pontoons are taken out for winter.
Yorke Peninsula
Wallaroo is the perfect home base to go exploring the Yorke Peninsula. It's only 2.5 hours drive from top to bottom and around 30 – 40 minutes from coast to coast. With plenty of towns and attractions along the way, enjoy a leisurely drive, travel at your own pace, stop when and where you want, and enjoy the sights!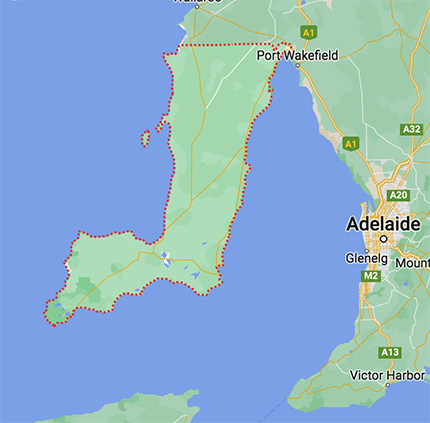 700kms of coastline
Your perfect beach awaits – all 700kms worth of them! Whether you're a keen surfer, bodyboarder, snorkeller, boater, or just love to relax on the sand with a good book, your perfect beach paradise awaits.
Explore a sandy oasis – the spectacular coastlines, secluded beaches, walking trails, amazing lookouts, vibrant scenery, wildlife, colourful wildflowers. Stop in at many of the towns shops and restaurants and other locations on offer:
 Check out the https://yorkepeninsula.com.au/ website with in depth information on all these attractions and more to get planning your Yorke Peninsula road trip.